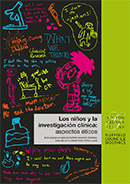 On the 12th June, Fundació Víctor Grífols i Lucas organised a seminar to present the report Children and Clinical Research: Ethical Issues, compiled by the Nuffield Council on Bioethics, a prestigious British institution.
Between 2013 and 2015, a working group managed by this institution analysed the way to perform clinical trials on children in a correct and ethical manner. Their conclusions are compiled in a thorough report that has recently been published. Its authors argue that research projects must work with children and young people, and not on them; this means that they should play an active role during the whole process in order to guarantee protection of their vulnerability.
In this sense, the report analyses three contexts where the potential contribution of a child to a decision regarding a research study poses clear ethical questions: children and young people who cannot give their opinion regarding their involvement (babies, very young children or children who are unconscious, or under very critical health conditions which prevent them from expressing their views); those who can express their opinion but who cannot make a decision on their own for age or risk reasons, and those who can make their own decision, even though they are not legally regarded as adults.
The Fundación has sponsored the translation of the editions summarised in this report.
Edition for children and families:
The Involvement of Children and Young People in Clinical Research: the Correct Way to Do It
Edition for healthcare professionals:
Children and Clinical Research: Ethical Issues