null
Implementation of Advance Care Planning at the Albada Health Center. A qualitative study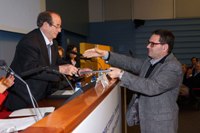 To the team led by Germán Diestre of the Albada Healthcare Center for the project: Implementation of Advance Care Planning at the Albada Health Center. A qualitative study.

The main purpose of this project is to discover the perceptions and aptitudes of patients/representatives, families and healthcare professionals at the Albada Healthcare Center in relation to Advance Care Planning (ACP) and compare these with the center's official care program for End of Life Care.
The aim is to provide proof that the introduction of ACP helps provide a better experience for patients, their families and healthcare professionals as well as a significant improvement in the quality of healthcare at the end of life. Additionally the study hopes to gain insight into how the different parties involved perceive the process, in order to develop areas of improvement in the healthcare program and to define new evaluation indicators and criteria.