Saló de l'Ensenyament
07 March 2013
From March 12 to 16 the Foundation takes part in the Barcelona Education Fair to promote the research prizes for high school students.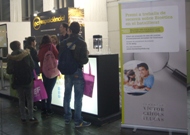 In the Science Space pupils will be able to find information on Secondary School Prizeawarded by the foundation. In the same area the public will be able to visit booths of universities, research centers and other Catalan institutions related to scientific fields.

Saló de l'Ensenyament
From 12 – 16 March
Espai Ciència.
Palau 2
Nivell 0
Fira de Barcelona