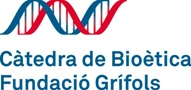 The University of Vic–Central University of Catalonia and the Víctor Grífols i Lucas Foundation have signed an agreement to create the Grífols Foundation Chair of Bioethics, the first such position in the Catalan university system to be dedicated to social bioethics.
The aim of this initiative, which is led by Victòria Camps and Núria Terribas of the Víctor Grífols i Lucas Foundation, is to generate and transfer knowledge in the sphere of bioethics, and to deepen our understanding of the ethical questions that are constantly raised not only by the life and health sciences but also in other areas of intellectual pursuit within the university and the wider world.
Its first educational initiative, in partnership with the Chair in Palliative Care at the University of Vic, involves developing the content of a training course in Planning Advance Decisions (PAD), aimed specifically at health professionals involved in the Government of Catalonia's Programme for Prevention and Care for Complex, Chronic Patients.
Further information:
http://www.uvic.cat/bioetica
Interview with Núria Terribas, Bioethics Chair Fundació Grífols director:
http://mon.uvic.cat/lapunt