Organization bioethics congress 2022
Venue
Universitat de Vic – Universitat Central de Catalunya
Campus Torre dels Frares
C/ de la Laura, 13
08500 Vic (Barcelona)
Organizing Committee
Núria Terribas (coordinator) Director of the Grífols Foundation Chair of Bioethics.
Ester Busquets. Professor of Bioethics at the Faculty of Health Sciences and Welfare of the UVic-UCC.
Irene Cambra. Researcher of the Chair of Bioethics UVic-UCC.
Anna Fidalgo. Bioethics Professor at UVic-UCC.
Sílvia Font. Primary physician. Member of the CEA of Martorell.
Scientific committee
Bernabé Robles (coordinator). Neurologist Consultant at the San Juan de Dios Health Park. Associate Professor of Bioethics at UVic-UCC.
Juan Pablo Beca. Pediatrician-neonatologist physician. Professor at the Universidad del Desarrollo. Founder of the Center for Bioethics-UDD.
Montserrat Busquets. Retired professor at School of Nursing of the UB. Memberof the Board of Trustees of the Fundació Grífols.
Marina Geli. Managing director of the Faculty of Medicine UVic-UCC. Coordinator of the Centre for Health and Social Studies (CESS).
Benjamin Herreros. Director of the Francisco Vallés Institute of Clinical Ethics – Universidad Europea.
Salvador Macip. Physician and researcher. Professor at the University of Leicester and the UOC.
Màrius Morlans. Physician-nephrologist. Vicepresident of the Bioethics Committee of Catalonia.
Bernadette Portales Phonoaudiologist, Master in Bioethics. Coordinator of postgraduate programs and continuing education at the Bioethics Center of the German Faculty of Clinical Medicine Universidad del Desarrollo.
Begoña Roman. Adjunct professor at the Faculty of Philosophy of the Universitat de Barcelona.
Olga Rubio. Clinical Head of Intensive Care Medicine. President of the Healthcare Ethics Committee of ALTHAIA Red Asistencial Universitaria de Manresa.
Technical secretariat

Organized by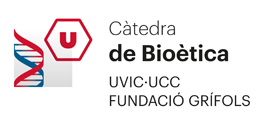 In partnership with: