Dr. Víctor Grífols i Lucas (1919-2015)
01 June 2015
Víctor Grífols i Lucas, who passed away on June the 1st 2015 was one of the founders of Laboratorios Grifols and responsible for creating the Foundation in 1998.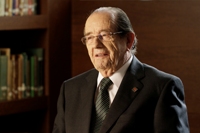 Dr. Víctor Grífols was born in Barcelona in 1919, and studied for a degree in Pharmacy and Chemical Sciences at the University of Barcelona. He was technical director of Laboratorios Grifols from 1941 until 1976, and continued to perform this role while also acting as CEO of the company from 1976 until 1985. Throughout this time he actively promoted agreements and links with international companies with the aim of sharing ideas and investments in order to foster the growth and development of Laboratorios Grifols. The value of this approach was recognized in 1995 with the award of the prize for the Internationalization of the Catalan Economy by the Autonomous Government of Catalonia. By this time he was President of Grupo Grifols, a position he occupied from 1985 to 2001.
In 1998 the foundation which bears his name was established, focusing on the promotion and development of bioethics.