null
Comparative study of protocols for accessing the interruption of pregnancy in the European Union (ProtoAccess)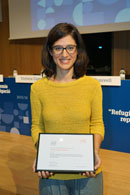 Rosana Triviño Caballero, of the Institute of Philosophy of Spain's Higher Council for Scientific Research (CSIC), who was awarded a grant for her study: "Comparative study of protocols for accessing the interruption of pregnancy in the European Union (ProtoAccess)."

The purpose of the project is to determine whether the conditions for accessing the interruption of pregnancy (IP) in European Union countries reflect the needs of women who are affected, and respect the classic principles of bioethics (autonomy, non-maleficence, beneficence and justice), reinterpreted in the light of feminist theories of care.

The project aims to conduct a comparative analysis of differences between practice and legislation in the member states of the European Union, possible reasons for this, and the potential impact of such requirements on access to IP. It also seeks to offer a framework protocol designed to adjust the conditions of access, in cases where this could be necessary.