Ethics and public health
22 April 2010
The Foundation workshop "Maleficence in prevention programmes" was attended by forty public health professionals from institutions and public bodies across Spain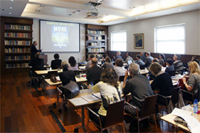 The Víctor Grífols i Lucas Foundation yesterday organized a workshop in "Maleficence in prevention programmes," attended by forty public health professionals from institutions and public bodies across Spain.

As Mateu Huguet, director of the Institute for Health Studies of the Government of Catalonia, explained, "the ethical aspect of public health is still relatively neglected, and that is why courses such as this are so innovative." Huguet went on to say that he was keen to collaborate with the Foundation in organizing annual activities to address these issues.

The workshop was designed to address ethical aspects of secondary breast cancer prevention programmes which use biannual breast scans to screen populations of apparently health women aged between 50 and 74. Although this initiative has reduced mortality in the target population, many individuals receive no direct benefit and some of them suffer adverse effects. These programmes and the information provided to those taking part in them were analysed from an ethical perspective.