Healthcare System and Transparency
26 June 2013
On June 20, healthcare administrators, medical professionals, and members of the teaching profession took part in the seminar "Transparency in the public health system".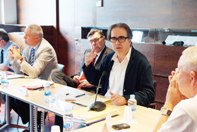 In a country without transparency legislation and with a tradition toward opacity, those who took part appealed for the need to make an evaluation of institutions. There was a general consensus that accountability should not remain an isolated practice but should be used to bring about changes and improvements to organizations.

The presentations made by Joan Subirats, Professor of Political Science at the Universitat Autònoma de Barcelona (UAB) and Joan Turró, Managing Director of the Fundació Universitària Balmes, together with the contributions of other participants, will be published shortly as part of the Foundation's collection of Monographs.

Caption: from left to right, Joan Turró, Marc Antoni Broggi and Joan Subirats.