Secondary school prizes
Winners
null
Ovidi Mallafré of the Anna Gironella de Mundet Secondary School for "Bioethics and dying with dignity".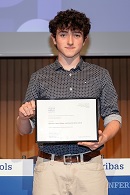 Ovidi Mallafré of the Anna Gironella de Mundet
This project's research work was conducted in three parts. The first consists of a literature review to establish a definition of euthanasia and the concepts referred to throughout the project itself. It also surveys changes in this legislation and the history of euthanasia. The second portion consists of field work consisting of three interviews with figures directly connected to the euthanasia field, and a survey gathering the opinions of young people. Taken together, this information offers a snapshot of the diverse opinions on this topic. In the last portion of the project, a proposal for evaluation criteria is offered by the author drawing from the information gleaned from parts one and two.