null
Validation of the MacCAT-T scale: a tool for assessing competence to take health decisions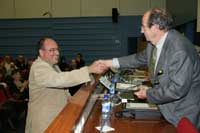 The team directed by Pablo Hernando of the Parc Taulí Health Corporation of Sabadell for the study Validación de la escala MacCAT-T: herramienta para evaluar la capacidad en la toma de decisiones sanitarias (Validation of the MacCAT-T scale: a tool for assessing competence to take health decisions).

The main objective of this project is to validate, adapt and translate the MacCAT-T into Spanish. The MacCAT-T is a tool which examines the ability of individuals to understand, reason, appreciate and express a choice in order to consent to medical treatment. In the United States, this tool is used as a reference in legal contexts, but in Spain we still lack capacity assessment protocols, of which a tool like the MacCAT is an essential part.

In addition to adapting the MacCAT-T, the study will observe its correlation with the CME (Cognitive Mini-Exam), analyse the results of the MacCAT in four patient groups, and assess how easy it is to use.