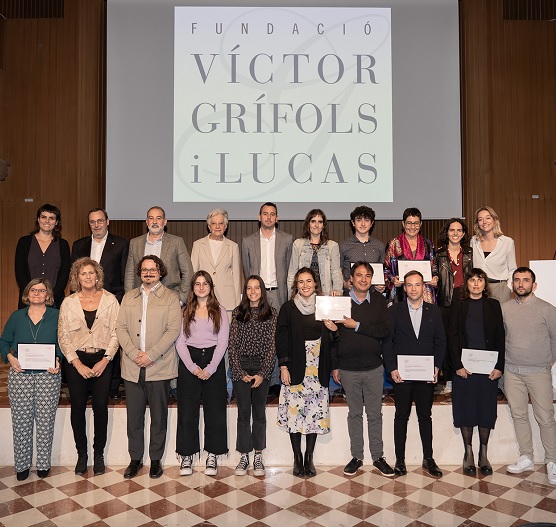 And the winners are...
14 October 2022
The Bioethics Awards and Grants Jury has announced the winning projects for this year's edition
Grants
The team led by Núria Masnou from the Dr. Josep Trueta University Hospital of Girona for its work entitled "Anàlisi de la relació del personal sanitari amb la mort a partir de l'aplicació de la LORE" (Analysis of healthcare workers' attitudes towards death based on the application of LORE - the Spanish Organic Law 3/2021 of March 24 regulating Euthanasia)".
M. Esperança Ginebra, Elena Lauroba and Joan Escarrabill from the University of Barcelona for their work "Consentimiento informado y toma de decisiones compartidas: construcciones jurídicas y experiencias médicas para salvaguardar la autonomía de los pacientes" (Informed consent and shared decision-making: legal constructions and medical experiences to safeguard patient autonomy).
Juan Francisco Roldán's team, from the Fundació de Recerca Sant Joan de Déu (Sant Joan de Déu Research Foundation) for its work entitled "Adaptación y validación del cuestionario Inpatient Dignity Scale (IPDS) Estudio Multicéntrico" (Adaptation and validation of the Inpatient Dignity Scale [IPDS]: A multicentre study).
Mar Vallès, Iris Parra and Ramón Ortega from the University of Granada, for their project "Narrativas de final de vida de pacientes que solicitan la ayuda para morir" (End-of-life narratives of patients requesting assistance in dying).
Adrián Villalba and Miguel Moreno from the University of Granada for their work "Gametos artificiales o cómo nos reproduciremos mañana: Un marco normativo para determinar la moralidad" (Artificial gametes or how we will reproduce tomorrow: a regulatory framework to determine morality).
The team led by Jaime Fons of the Foundation for the Promotion of Health and Biomedical Research of the Valencian Region (FISABIO) for its work "Portal del donante: herramienta digital para mejorar el proceso de consentimiento informado en la donación de muestras biológicas con fines de investigación." (The Donor Portal: a digital tool to improve the informed consent process for the donation of biological samples for research purposes).
Secondary school prizes
First prize for the project entitled "CRISPR les tisores moleculars amb què podràs tallar l'ADN" (CRISPR: molecular scissors to edit DNA) by student Lúa Abad from the Escola Pia Balmes School in Barcelona.
Second prize for "Artificial Intelligence: the (r)evolutionary way to transform medicine" by student Andrea García from Col·legi Diocesà Sagrada Família School of Tortosa.
Third prize for "Bioètica i mort digna" (Bioethics and dying with dignity) by student Ovidi Mallafré from Anna Gironella de Mundet Secondary School.
Audiovisual Award
For the feature film "La dona invisible" (Invisible woman) by Carla Sospedra, produced by Edna Cinema.
Honourable Mention: for the documentary "Les culpables" (The Guilty Ones) by Montse Pujol and produced by Boogaloo Films.
A total of 26 grants applications, 92 audiovisual projects and 19 secondary school projects were received. The jury appreciates the participation of all those who submitted projects and encourages them to take part in future editions.