Course " Helping to die"
02 November 2009
November, 9th-10th, at the Centre de Cultura Contemporània of Barcelona. Registration grants available.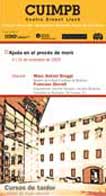 The Foundation and the Consorci Universitat Internacional Menéndez Pelayo de Barcelona (CUIMPB) organize the course "Ayuda en el proceso de morir" (Helping to die) next November, 9th and 10th. The aim of this course is analyzing professional help provided to patients within the process of dying and how can this be improved.

The course will go in depth with changes undergoing in society when facing the death. Also it will provide knowledge, communication skills and guidelines to be used at end of life situations.

Registration
www.cuimpb.cat

Registration grants available. Applications must be sent by e-mail to fundacio.grifols@grifols.com, including personal details.
No need to register at CUIMPB University.

Free Election Credits:
Interested to obtain free election credits must address to CUIMPB Students Office. info@cuimpb.cat

Place:
Centre de Cultura Contemporània de Barcelona
C/ Montalegre, 5 Barcelona