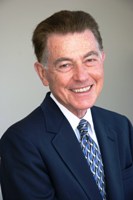 Francisco J. Ayala, a biologist and university professor at Irvine University, California, will be the guest speaker at the Foundation's scholarships and awards ceremony, which will take place on October 9.

Ayala, a specialist in evolutionary biology, is currently one of the most internationally renowned scientists. During his conference, among other issues he will address whether ethics are determined by human biological nature and the influence that cultural evolution has on moral norms.

October 9, at 19:00 h.
Hospital de Sant Pau / Recinto modernista
Francesc Cambó Hall
c/ St. Antoni M. Claret, 167, Barcelona

Registration is closed.