null
Positive eugenics and its impact on sporting practice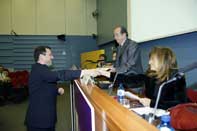 To José Luís Pérez Triviño of the Department of Legal Philosophy at the Pompeu Fabra University of Barcelona for the study: La eugenesia positiva y su impacto en la práctica deportiva (Positive eugenics and its impact on sporting practice)

Medicine has developed techniques which make it possible to submit embryos to preventive genetic testing to avoid the risk of transmitting hereditary diseases. However, this corrective intervention could give way to perfective intervention to improve memory, musculature and height, or to genetically select for sex. This forces us to consider whether genetic modifications in sportspeople to improve their physical abilities can be justified.

This study seeks to analyze and explore the problems deriving from traditional notions of effort and merit as the bases of sporting success, the impact of eugenesia on values of human freedom and responsibility, and equality in sporting practice. The study will analyze various biotechnological techniques designed to improve physical capacities, and will analyze the impact such techniques could have on our understanding of sporting ethics.